Welcome to Adirondack Furniture .org showcasing a unique collection of rustic twig furniture and North Country crafts inspired by the Great Camps of the Adirondacks. We invite you to preview our one-of-a-kind Adirondack chairs, benches, tables, birch bark mirrors & frames, handcrafted ash baskets, antler chandeliers handwoven rugs and hand made Adirondack Guide Boats.





A brief history of the Adirondacks from the first sighting by a European in 1535, through the eras of trapping, iron mining, and lumbering, to the development of railroad and steamboat lines that led to the influx of tourists and building of the "Great Camps".
The sixty years from 1870 to 1930 were the heyday of these camps, the "Guilded Age" of the Adirondacks. Kaiser gives a fascinating account both of the personalities who engineered and financed these fabulous structures and of the bulidings themselves.

The Adirondack Chair is one of the most popular outdoor chairs in the United States. The chair incorporates design ideas used for many decades; wide arms, contoured seat and a scalloped back. Adirondack chairs are comfortable because the chair back inclines 30 degrees and is curved to conform to your back giving excellent lower back support. Its deep, angled seat and broad arm rests, make the perfect place for a plate of food & drink or garden gloves. click here for more Adirondack chairs

Click here to visit our ADIRONDACK FURNITURE GALLERY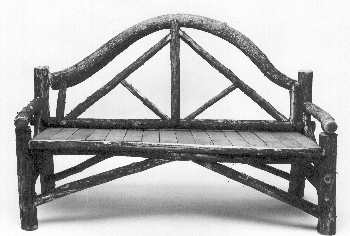 Rustic Furniture
The idea of behind rustic furniture was to create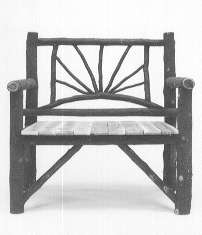 interesting pieces using natural materials such as twigs and logs that would blend into a decor and not stand out . Rustic furniture makers today follow the age old tradition of using natural materials to create spectacular furniture and rustic decor pieces. Rustic furniture usually has no set line or angles. Each piece is individually crafted .
Once you have a log home with rustic elements you will want to continue that element with the furniture and decorations.
Finding beautiful log furniture, stairs and railings, and other pieces that will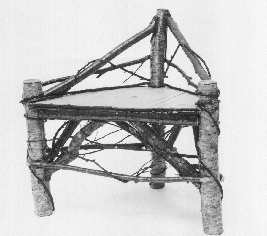 complement your beautiful log home is easier than you might think. Log furniture is naturally beautiful. You can see all of the character and wood grain of the logs used in every piece of wood furniture. Log furniture made with timbers, twigs and branches brings nature right into your home or cabin. From custom crafted twig furniture, stairs and railings to antler chandeliers, your unique rustic look is just a few clicks away.
Adirondack Chair & Furniture Center
Adirondack Holiday Shopping

There are literally hundreds of boutiques, stores, and galleries in the Adirondacks offering a remarkable selection of products! Everything from original handcrafted rustic furniture and handblown glass to tie dyed t-shirts and monogrammed coffee mugs!
In Lake George, shoppers can even find large factory outlets offering great bargains on name brand labels. For the more adventurous, there are many wonderful little shops and studios scattered throughout the Adirondacks in mountain villages like Saranac Lake and Old Forge. We invite you to browse our interesting selection of Adirondack on-line stores and boutiques. Enjoy your visit and don't forget your wallet!
Visit

Christmas Wreath.com Search and compare the lowest prices for fresh balsam wreaths & hand crafted gifts from all over the country!
Free shipping & toll free ordering! Click here

Visit

Cheap Gift Baskets.com Treat that special person to a lovely gift basket for any occasion! Get the lowest prices on the web & search a huge selection of gourmet gift baskets with cheese, wine & chocolate! Click here



Adirondack Log homes and Adirondack Log Furniture
Here you will find a wealth of information about Adirondack log cabin homes, log home floor plans, financing for log homes, construction tips on log homes, Adirondack custom log homes, log home photographs, and much, much more!
Click Here to visit a unique gallery of Adirondack Rustic Furnishings

Robert Stump Studios
Hand Painted Adirondack Gifts
Click Here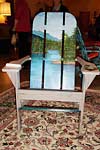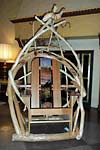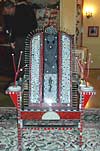 ---
ADIRONDACK PHOTOGRAPHER SHOWCASE
Carl Heilman
Carl Heilman II has been photographing theAdirondack wilderness landscape since 1975, working to capture on film both the grandeur of these special places, and the emotional and spiritual connection he has felt as well. His passion for spending as much time as possible in some of the wildest regions of the Adirondack Park, soon became a life-long quest to create images that record the essence of a true wilderness experience. Today Carl is a full time professional nature photographer.
Click here
for more information on Adirondack Artist Carl Heilman.

Adirondack Vistas
Calendar

Beautiful Lake George
Calendar

Adirondack Calendars
By photographer- Carl Heilman
Click here
Camp "Cobblestone"
The Legendary Great Camp of the Adirondacks!
Sold June 2006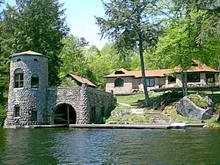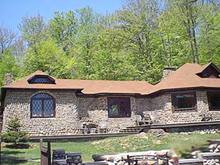 St Regis - Spitfire Lake
Camp Cobblestone represents one of the last remaining Great Camps in northern New York and was originally built by the father of Pennsylvania Governor George H. Earle Jr., between 1900 - 1915. The estate is comprised of over 20 acres and includes eleven separate buildings and 1500 feet of prime waterfront on Spitfire Lake in the St. Regis chain. Camp Cobblestone's remarkable architecture features a unique cobblestone boathouse, 2 story stone tower, a magnificent octagonal living room with diamond pane windows and numerous stone guest cottages and buildings.
Click here for more information
Click here to visit our photo gallery of vintage Adirondack Great Camps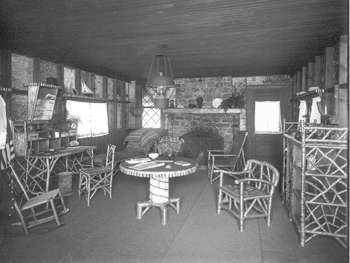 click here to visit the Adirondack Store



Order your fresh Balsam Wreaths direct from the Adirondack Mountains!



click here to visit our Adirondack Book store
Adirondacks: Views of an American Wilderness
In 'Adirondacks', author and photographer, Carl Heilman II, has captured a real sense of the Adirondack region with his spectacular imagery,
and evocative narrative.
Click here to order



ONLINE VISITOR & RELOCATION GUIDE

Click here to get valuable resources and tools to help you relocate, buy a home, find a great loan & much more!


Adirondack Furniture .org

Phone: 518-891-3745 Fax: 518-891-3768
E-Mail: RobGrant@northnet.org

Adirondack Furniture .org

Phone: 518-891-3745 Fax: 518-891-3768
E-Mail: RobGrant@northnet.org